Modern technological achievements extend the possibilities of applying therapies until recently reserved for natural sanatorium centers.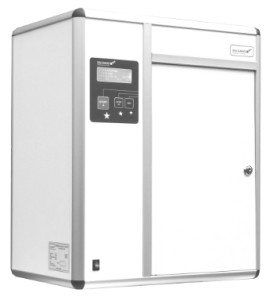 Dry aerosols can be prepared using special devices that first grind a solid substance, then administer it in the form of a dry aerosol. The Halogenerator produces a highly dispersive dry salt spray with a particle size that allows reaching the deepest parts of the respiratory system.
The amount of aerosol produced is controlled by means of a microprocessor. Thanks to the modulated operation of the control system, the aerosol is delivered to the halotherapy room continuously. This function is important due to the fact that microparticles maintain their highest activity only for about 100 seconds from the moment of fragmentation.
Halogenerator is a medical device that has a certificate of a notified body by the Ministry of Health.
Salt spray generator is an automatic device. Thanks to the programming possibilities it can be used for small, medium and large rooms.
The salt aerosol is delivered to the inhaler from the technical room adjacent to the wall, which gives convenience during operation and maintenance. Modern surgical technique broadens the range of treatments and, being more and more precise, requires strict compliance with the rules of service.
Thanks to new devices such as a halogenerator, the number of different possible treatments increases. Treatment with the use of modern equipment meets the highest requirements set by scientific balneology not only in terms of the effectiveness of treatments, but allows for a more economical use of balneological raw materials. Determining the optimal technical solutions is based on an objective scientific basis and experience of balneology specialists. Comparative analyzes support engineers in the scientific evaluation of new solutions, stimulating development for the benefit of us all.